by Philip Perry


With the netball season almost on us, it's time to start thinking about what you will need, and one of the most important places to start is at your feet. And with so many shoes to choose from, where do you start?
There are 3 functional aspects to look for in a good netball shoe, all working together as a one to help your performance:
Upper integrity

Stability

Traction
Upper Integrity
Netball shoes need to cope with the rigors of a very intense game with rapid stop, start & sideways movements. To accommodate these forces the upper needs integrity & this is provided by structured materials & a reinforced upper. Even the logo provides strength to the upper! Other features such as foot framing through the midsole add to this.
Don't be fooled into thinking a running shoe will cope with netball specific demands. Running shoes are designed with lightweight mesh or knit uppers because most running is done in a fairly straight line on a relatively flat & even surface.

Netball Shoe, stronger upper
Runner, mostly mesh upper
Stability

With the constant stop, start & lateral movements in netball, shoes need to reduce the likelihood of abnormal foot movements such as rolling your ankle. The upper integrity is important for this as is the framing of the shoe where the midsole cups a little up the side of the upper to add to stability.

Running shoes have sharp edges and tend to flare a little at the heel & if you happen to land on the critical edge it will lever your foot into a rolled ankle. And while the rolled edges of the sides of netball shoes (and the narrower heel) won't completely stop you from rolling your ankle they make it harder to land on that critical levering point.

Netball, round sole edges
Running, flared heel & sharp edge
Traction

Traditionally netball shoes have had a herringbone outsole pattern with a wear dot or pivot point under the ball joint of the big toe. Newer variations on the herringbone are still used because of their effectiveness. But if traction is too good, the foot sticks, the knee twists & the ACL can rupture so occasionally it is better to fall over.

One of the issues with park netball is wearing shoes with a heavily worn outsole causing slipping accidents to occur especially if the playing surface is wet. The surface you play on should also be considered when selecting the best netball shoe as different outsole designs are available for different wear patterns and surfaces.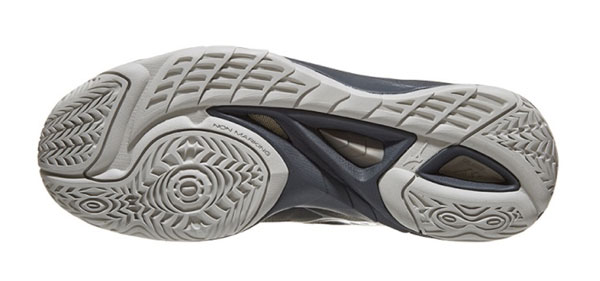 What are the Choices?

For many years, cross trainers have been seen as a suitable alternative, and were actually all that was available prior to companies manufacturing netball shoes. However they are becoming more like running shoes, and should be approached with caution. In fact, we now often suggest netball shoes as the most suitable for gym based fitness activities.

In recent years tennis shoes have reduced their weight & they now tick all the boxes to be very suitable shoes for netball, as the playing surface & movement patterns in netball & tennis are very similar. If you are a shoe destroyer it may well be in your interest to consider tennis shoes.

Companies like Asics & Mizuno make specialty netball shoes which address the issues described above.

Shoes Phil likes (January 2019) & not in any order:

NETBALL

Asics: Netburner Super FF, Netburner Ballistic FF (& the higher top Ballistic FFMT), Netburner 19, Netburner Professional (indoor) & the budget Netburner Academy
Mizuno: Wave Stealth VNB, Wave Mirage, Wave Phantom

TENNIS

Asics: Gel Resolution 7, Gel Solution 7 & the budget model Gel Dedicate 5 hardcourt
New Balance: 996V3
Nike: Court Zoom Cage3, Air Zoom VaporX

CROSS TRAINER (if you must)

Asics: Gel 800 XTR, Gel Lethal Burner, Gel Quest FF
New Balance: 608 budget model with full leather upper (tough) & 857V2
Nike: Air Zoom Elevate

Think of shoes like tyres…. you get what you pay for!
Back